Google Maps Business Management Service
Rank Higher in the Local Pack and on Google Maps
Get to the top positions and leave your competitors behind.
Stop wondering why you don't rank higher on Google and start getting more calls and clicks from your Google Business Profile (GBP).
Work directly with a dedicated profile manager who will benchmark your current profile performance, conduct a 100 point audit, then lead the charge to implementing enhancements in order to fully optimize your profile.
Learn more about our GBP Optimization Service below or call 1-903-841-1040 to speak with us about how AWC can help!
Ready to gain more customers?
See under the hood of your Google Business Profile
Google Business Profile Audit reveals any SEO issues that could be harming your current performance. Including duplicate listings, NAP errors, and local ranking identifiers which exist outside of your GBP listing.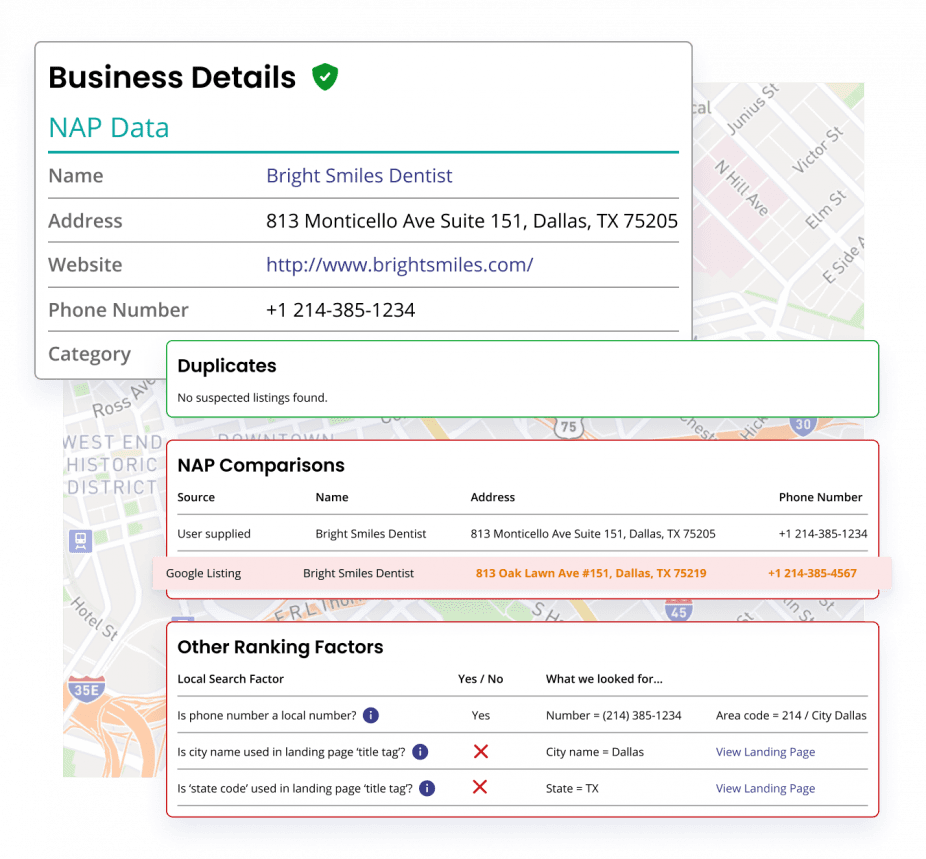 Benchmark vs the competition
Know who you're competing against and how to outrank them. See your top 10 competitors for your most important keywords, and how they're performing for the most important factors that affect local rankings.
Elevate Your Online Visibility with AWC Local SEO
In the digital age, a robust online presence is paramount for businesses across the United States. AWC Local SEO specializes in Search Engine and Google Profile Optimization, ensuring your business stands out in the crowded online marketplace.
Do you want to maximize the results you get from Google My Business without having to spend a ton of time learning how to best promote it every month?
Our Google My Business Management Service is a perfect fit if you don't want to deal with the hassle of making sure you're doing everything possible to dominate Google each month.
With the Google My Business Management Service, you'll have AWC Local SEO doing the hard work for you!
Google My Business Optimization Service Overview
The Google My Business Management Service allows you to work with a Google Certified GMB expert that can handle all the little details (and sometimes big headaches) that come with managing a prominent GMB listing. For a deeper understanding of how AWC Local SEO can propel your business to new digital heights, visit our service page. Our dedicated team is ready to customize a strategy that aligns with your business goals, ensuring a prominent online presence across the United States
With this service, your listing will initially be optimized for your targeted search phrases and local. Every month after that, the Your account manager will be putting in the work to:
Initial Benchmark Performance Report
Geogrid Keyword Rankings Report
100 Point Google Business Profile Audit
Implement moves, adds, and edits
Curate Q&A's
Respond to reviews
Monitor your profile
Report spam
Monitor competitor performance
Track your targeted keywords
Create a monthly report and anything else that might be thrown in along the way!
No website? We'll create you a landing page free!
Don't worry if you have more than one location – you're going to see even more value. We work with many multi-location businesses to eliminate their headaches from the time they spend managing Google My Business.
Why AWC Local SEO?
Expertise: With extensive knowledge in SEO and Google Profile Optimization, we ensure your business ranks higher on search results.
Nationwide Reach: Our services cater to businesses across the United States, offering a broad spectrum of SEO solutions.
Results-Driven Approach: We focus on delivering tangible results that translate to increased online visibility and customer engagement.
Services Offered
Search Engine Optimization (SEO)
Google Business Profile Management
Local SEO Strategy Development
Online Reputation Management
Full Website Design
All Google Services
Frequently Asked Questions
How can Local SEO benefit my business?
Local SEO boosts your business's online visibility in local search results, attracting more customers in your area.
What is Google Business Profile Management?
This service ensures your Google Business Profile is optimized for search engines, showcasing accurate and appealing information about your business.
How long does it take to see results?
SEO is a long-term strategy. While initial improvements may be seen within a few weeks, significant results typically require several months of optimization.
How Our Google My Business Management Service Works
You Tell Us About Your Location
Everything starts with learning more about you! Using our simple Google My Business Management Service form, we will capture all the details about your business location that the AWC needs to properly manage your GMB listing. This should take you about 10 minutes to complete.
We Audit Your Profile(or Get Started With Verification)
The next step in our Google My Business Management Service is to benchmark your current performance. The AWC team personally conducts a 100-step audit of your GMB listing based on all the best practices we've learned over the past 12 years. You will receive a detailed checklist that shows exactly where your listing stands. If you don't already have a Google My Business listing, we will get one claimed and verified for you during this step!
We Create an Action Plan for Your Profile
With an audit completed, your account manager will then create a customized action plan to improve your GMB listing. This will guide us as we fight our  way through the maps listings to give your profile an open path to success.
We Enhance and Optimize Your Google My Business Listing
It's now time for the GMB AWC team to really get to work. Your account manager will take over to ensure all the necessary updates are made to optimize your listing. Throughout this process, your account manager will be in close contact to keep you updated every step along the way.
We Manage and Promote Your Profile Every Month
Now that your Google My Business Profile is optimized, it's time to kick off promotion! Each month, your account manager will take care of posts, Q&A, reviews, spam reports, profile monitoring, and reporting. This ensures your listing continues to get more visibility, traffic, calls, and new customers in the door!
Ready to gain more customers?
We Are Google certified in all areas of SEO and PPC advertising